Inspire Your Students
When people think of school, their thoughts often turn to days of learning the '3 Rs', gaining the knowledge that will propel them through life. However, many students today are also discovering that the three 'I's can change their lives - and of the community in which they live.
Around the country, students are using IMAGINATION to identify problems at their school, or dream of things from which their city could benefit. When INSPIRATION strikes them, they work individually or as a group to derive a solution. When they then IMPLEMENT those solutions, the result is often a fourth I: a positive IMPACT on their communities.
On the first leg of his coast-to-coast-to-caost bike ride, Glen spoke to a middle school in Vernal UT. Those students, filled with enthusiasm, formed a bicycling club. The club then spent two years lobbying councilmen and raising funds, with concrete results: the school board converted unused district land to a BMX park.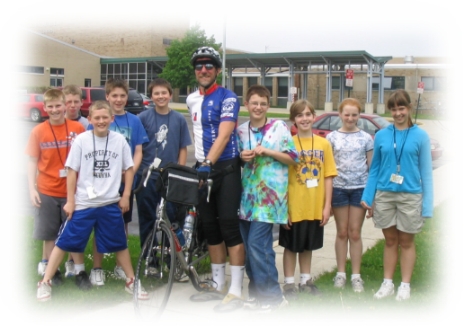 Delight Your Armchair Travelers
People have enjoyed traveling vicariously through books for years. From John Steinbeck's Travels With Charley, through William Least-Heat Moon's Blue Highways and Peter Jenkins's A Walk Across America, to Steven Newman's Worldwalk, travelogues have grabbed the attention of audiences of all ages.
But how often do your library patrons or book club readers get to meet those people who illustrate lands far and near? Now they have a chance to hear a person who strives to add travel into the tapestry of life. Who knows - they may be moved to adventure themselves!
The Product of Inspiration
Glen Hanket - author, publisher, adventurer, engineer - has both received his share of inspiration. In 1992, shortly after his wedding, a talk delivered by the first man to walk around the world inspired him and his bride to leave their jobs and spend a year walking from Maine to Oregon, picking up four tons of roadside litter.
Glen told the story of his cross-country 'honeymoon' walk in his first book, Underwear by the Roadside. (The title refers to the unusual trash he picked up in every state except Kansas.) As the LA Times said, "The author's straightforward prose and heartfelt appreciation of life's simple joys separate this tome from the weaker examples of this genre that litter bookshelves."
Glen reprised his walk in 1998, taking a week to walk from Ft. Collins CO to Denver to celebrate Earth Day. In every town he stopped at a school, helping children clean up their school grounds and regaling them with tales of his trip, or talking to them on subjects ranging from science, computers, writing, speaking, and business.
Ten years after his big walk, Glen returned to the road. In three consecutive springs he bicycled from Oregon to Denver to Chicago to Rhode Island. On the ride, he began his days speaking at schools in towns he passed through, inspiring those students. That adventure - along with others, including a run with the Olympic torch - provided the basis for his book, WOW! What a Ride!.
More information available
The links provided on this page will take you to details on the tour schedule, and which talks have been scheduled. Information about cost and programs is available on the linked pages also, as well as links to his books.