The inveterate author-adventurer Glen Hanket is preparing once again to put his two wheels on the road, traveling across the land, speaking to students and adults about the country, the environment, and pursuing their dreams.
This year's two-week trek takes him from Chicago to Denver, through the scenic Wisconsin Dells and along the Platte River to the Rockies.
Prepare the Students
Some educators have used various methods to prepare their students prior to my arrival. At one school, the classes cleaned up the school yards before I got there, proudly showing me how much they'd collected.
I have also been asked about litter-realted topics their students might investigate ahead of time. To assist them, I have included below a number of suggestions for further investigations or discussions.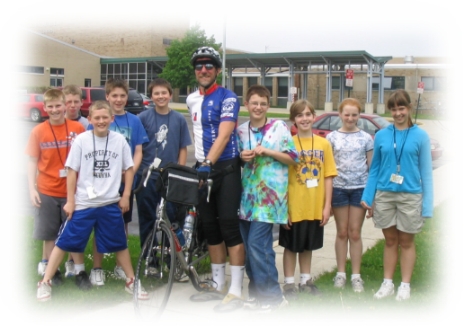 the Great Pacific Garbage Patch
What happens when plastic trash washes out to sea? It collects in an area where currents tend to slow down, forming a 'plastic soup' in the middle of the Pacific Ocean. This environmental nightmare covers an area roughly twice the size of the continental U.S. One article with more information is at The Sunday Independent; there are many more on the web.
Questions to consider on the Great Pacific Garbare Patch:
How fast is the patch growing?
How old is the patch?
Where does the plastic come from?
How many animals have died from this?
What can be done?
Is America getting cleaner?
Are we littering less? Studies indicate that is the case. An article in the McClatchy Newspapers states that littering has decreased 2% a year since the mid-70s.
Questions to consider:
What actions have helped cut littering?
How do states fund litter removal?
Where does most litter come from?
Recycling
According to the EPA, recycling has grown from 9% of our trash in 1980 to 32% in 2007. 31% of plastic drink bottles, 45% of beer and pop cans, 52% of paper, 63% of steel packaging, and 67% of appliances are recycled.
Questions to consider:
What common item is recycled at a 95% rate?
What is our biggest export to China?
What country recycles 80% of its waste?
Delaware recycles the highest %age of its trash. Where does your state rank?
Electronic Waste
A growing problem is the proliferation of computers, cell phones, PDAs, and the like finding their way into landfills. There are five ways you can help solve this problem:
Buy your products from companies that take back their old products to 'repurpose' them.
If it still works, you can get money or reward points from sites such as MyBoneYard.com, GreenPhone.com, or eBay.EZtradein.com.
Donate it! Schools, non-profit agencies, shelters, and police departments can help with this. Check ReCellular.com.
Check out FreeCycle.org to find someone local to your area that could use your castoff item.
At last resort, recyle it. Find a dropoff location at Earth911.com
Questions to consider:
Why is electronic waste in landfills much worse than other items?
What are some companies that take back their old products?
Where can you recycle e-waste in your area?
Who can use your old cell phones?
Other Topics
Have the class discuss the items mentioned on the No More Trash! Online web page.
What are the costs and consequences of litter?
a Note on Camping
One question that students always ask is, "Where did you spend the night while walking?" For a musical answer, you can watch the Camping Song that Glen composed and performed on YouTube. (You can also get to the video directly by going to YouTube and searching for 'litterwalk' (all one word). This 1-minute video is part of the DVD that Glen normally begins his presentations with.